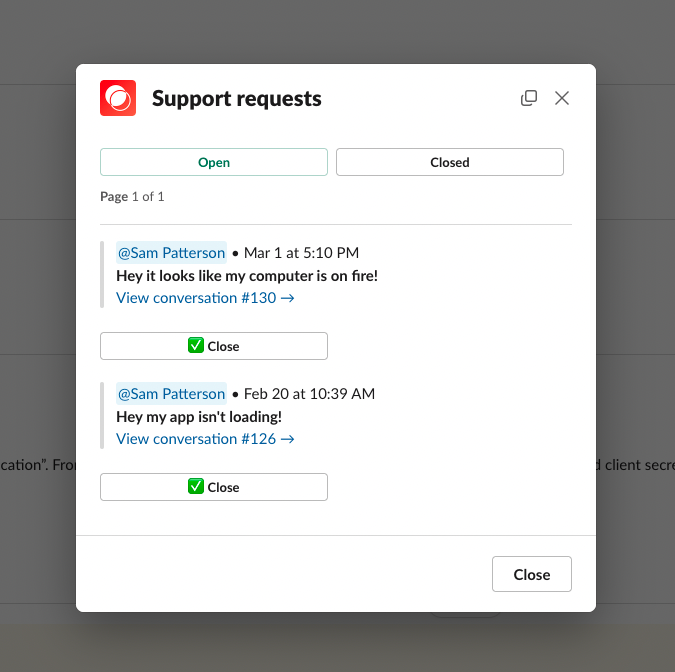 Give Your Customers a Support Request History Dashboard, in Slack
Your customers can now see a history of their support requests right from their Slack channel.
To make this happen, Unthread will pin a message to the top of the channel that will show the list of previously made requests, and show which are opened or closed.
See a walkthrough on our helpdesk site
Manage External Tasks (Asana, Jira, Linear, more) from the Web Dashboard
Hey have you tried our nifty external task manager integration yet?
Well, now you can create and track tasks in your favorite task manager right from both the Unthread Slack app and web application.
Even if you create tasks from your task manager app directly, we'll still link them to your Unthread conversations if you include a Slack link.
⚡️ Major Auto-responder Improvements
Did you know that Unthread can automatically respond to customer messages in Slack, with different messages based on the customer, the time of day, whether you have a relevant helpdesk article, and more?
Well now you do! And we just added some of the biggest updates in a while:
Add AI-generated responses (and enable always or only outside of working hours)
Add documentation links (and enable always or only outside of working hours)
White-label the auto-responder so it posts with a custom name and image that you upload (this is only available for Pro accounts, so please contact us to enable it!)
Read more about everything the Auto-responder can do →
📖 Knowledge Base AI Customization Per Channel
Last month, we publicly launched the ability to use your knowledge base articles to automatically generate replies and relevant documentation for customer questions.
We heard your feedback and added the ability to customize which articles are used for which customers and channels. From your Knowledge base on the dashboard, apply "Tags" which will limit responses to being sent to customers that include the same tags.
You can also specify "Internal" documentation for things such as runbooks and other things that you can use internally without sharing publicly with customers.
🚀 Other Fun New Stuff:
Save SLAs and assignment rules that can be re-used for different customers (e.g. "Enterprise Support SLA)
You can configure Unthread to move tickets from "In Progress" to "Needs Response" when customers reply (contact us to enable this for your account)
Self-serve Jira and GitHub integration (no need to contact us to enable)
Bulk update assignees, tags, and more from the kanban board
Slack broadcasts now auto-save drafts and it's easier to send test messages to see how it looks for customers
If you use our Zendesk integration, you can create Zendesk tickets with the 🎫 emoji
Slack also recently added the ability to open separate windows, and it's a great way to have your Unthread inbox be opened as a standalone application!