Customer Story: Spacelift Makes Cloud Configuration a Breeze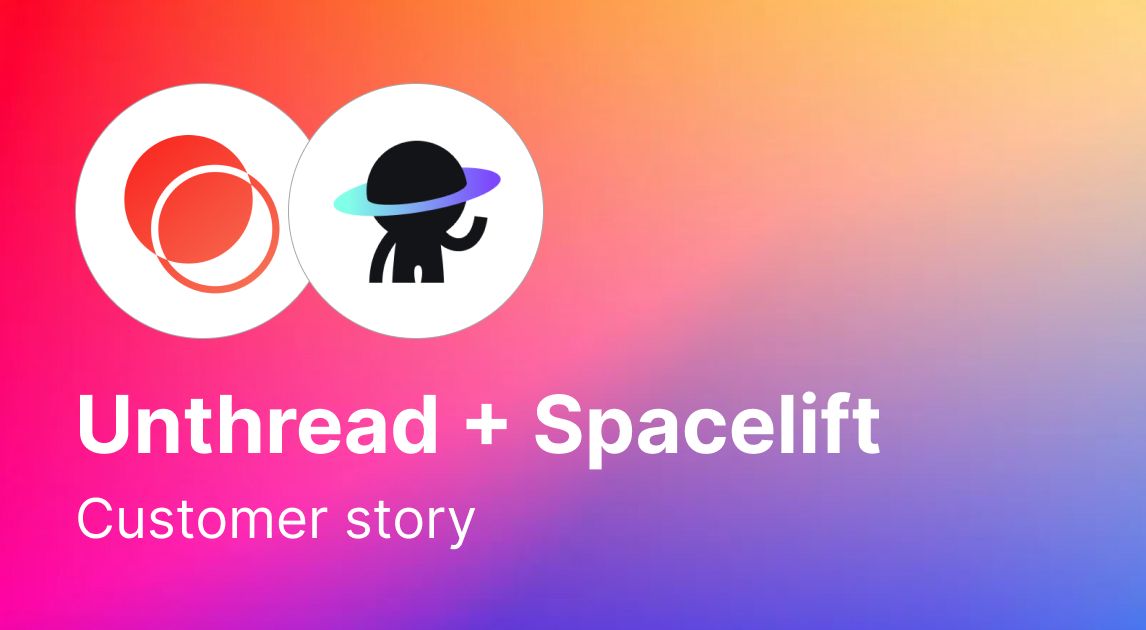 Spacelift is a leader in the Infrastructure as Code (IaC) space with their cloud-based tools for managing continuous integration pipelines. They fit seamlessly into your development stack to let you control and scale infrastructure across Terraform, CloudFormation, Kubernetes, Ansible, and other tools controlled directly from your repositories on GitHub or GitLab. Spacelift makes it easier to keep systems up and performant – a critical component for any cloud platform.
Why Infrastructure Companies Need Great Support
"We spend a lot of time talking to our customers. One thing we hear repeatedly is how they love our fast, accurate, and friendly support over Slack, so when the number of customer channels became overwhelming, instead of switching to a traditional ticketing system, we decided to double down on Slack and find a tool that could help us keep on providing excellent and friendly support while making sure that every request is handled promptly until completion."

- Jean-Marc Fontaine, Head of Solutions Engineering and Support at Spacelift
When you work with major companies like Checkout.com, Affirm, and Lightspeed, any amount of downtime means millions of dollars in losses for your customers. This is why Spacelift built out a world-class support team that works directly with customers over Slack channels and in-app chat to implement, onboard, and debug issues together with their team.
"The Spacelift team has been really supportive. They've addressed any issues we've had quickly, which is exactly what you want from such a critical technology partner."

- Alex Jurkiewicz, Senior Site Reliability Engineer at Lightspeed
Spacelift's Unique Approach to Infrastructure as Code
Rather than trying to cobble together disparate DevOps tools, Spacelift unifies the experience in a modern, flexible, purpose-built platform.
Self-Service Infrastructure
Automated workflows help everyone understand the impact of proposed changes, providing continuous delivery to the infrastructure, which engineering teams need.
CI Automation & Validation
Spacelift allows you to run test deployments and verify your CI/CD configuration before anything hits your servers.
Developer Tool Integration
Spacelift takes an agnostic approach to your development stack. Whether you're using GitLab, GitHub, Bitbucket, AWS, GCP, Azure, Terraform, CloudFormation, Ansible, Pulumi, or any mixture of these, you can unify them in a single IaC workstream that gives you flexibility to change your stack without risking deployment nightmares.
Improving Support as Customer Base Grows
Spacelift has been using Unthread since 2022 to manage all customer conversations and scale up this amazing customer experience. In that time, they've seen incredible growth in terms of customers and revenue, while also optimizing response times and resolution times.
📈 Ticket volume increased 118%
⏱ Median time to first response improved by 70%
✅ Median time to resolve improved by 60%
To achieve these results, they use multiple support tiers, and they leverage Unthread's "Assignment Rules" framework to assign to a member of the support team in a round-robin format, ensuring an equal workload of tickets per agent. They also use triage channels to share customer conversations with the relevant folks on the team who may not be in customer channels directly but need to provide technical support. This keeps teams focused on what they do best while ensuring each customer gets the right attention in real time.
"Unthread has been instrumental in our ability to provide outstanding support to our fast-growing customer base with a small team."

- Jean-Marc Fontaine, Head of Solutions Engineering and Support at Spacelift