Ask Questions of Your Documentation When Replying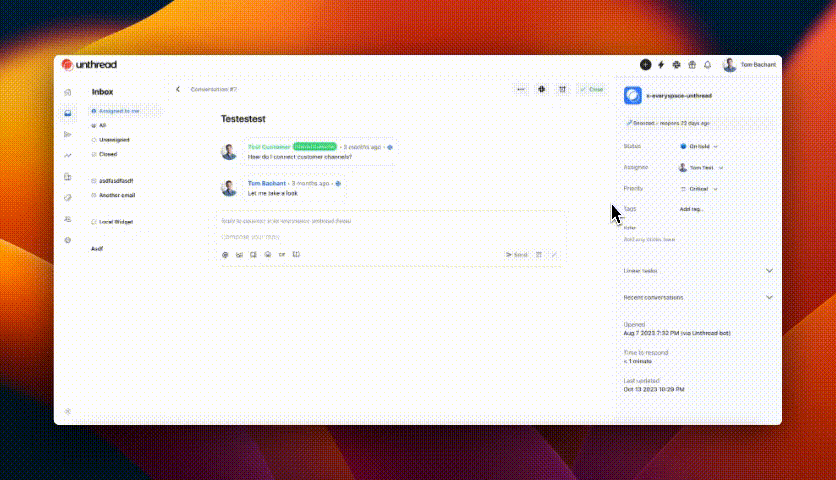 You already know that you can link your documentation and knowledge base to Unthread in order to get AI-generated responses and links for your customers.
When you're composing your response, you can now easily pull up articles related to customer questions and even ask questions directly with Unthread AI. If you've already linked your knowledge base, you'll see this button in your dashboard now!
Send Surveys When Closing Conversations
You can now save and re-use Surveys that can easily be sent from the conversation details page.
In the "Outbounds" > "Surveys" section, you'll see where Surveys can be created.
When you add them to a template, you can easily include them in a message and collect results.
Assign Conversations Based On Tags
In your SLAs and assignment rules, you can now assign conversations based on the type of question being asked.
This builds on top of the AI tags feature to automatically categorize your conversations.
Other Fun Updates
Microsoft Teams integration now supports file sharing and better control over which channels are tracked
Email support now lets you verify your email domain to send responses from your own email address. We've also simplified the setup process for adding new email inboxes.
Sent a Broadcast with a typo? No problem, you can now unsend Slack broadcasts
You can set a custom signature for your email replies (set this up on your Profile page)
From the web dashboard, you can now edit titles, resolution times, and any linked tasks
The inbox now supports filtering by a date range
Speaking of inbox, you can now drag and drop conversations in the Kanban view