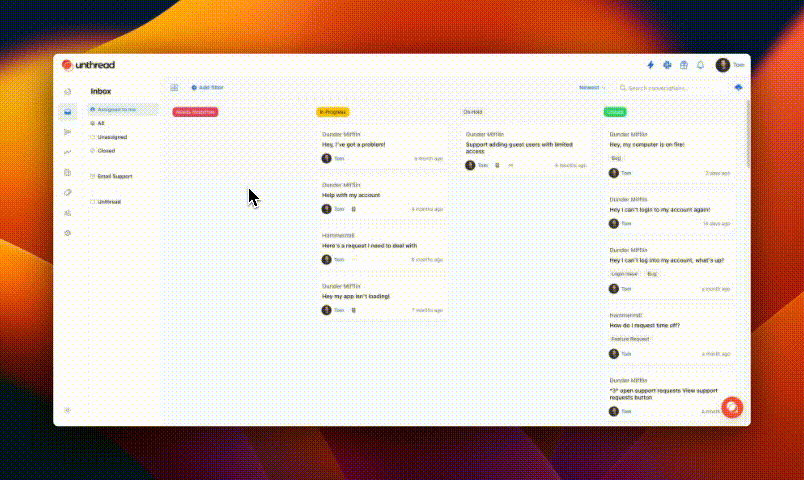 New & Improved Conversation Dashboard 📤
In addition to responding to messages directly in Slack, you can also manage your entire support workflow from your Unthread dashboard.
We're super excited to announce some major improvements to the experience of managing your conversations:
• New layout shows user images in the view as well as the company image of the customer you're responding to
• Respond directly or add internal notes for team members (they'll be added to your Triage thread in Slack)
• Mobile friendliness and accessibility via Unthread mobile app
• Attach GIFs, photos, AI-generated responses, and more to your replies
• Attachments and uploads appear inline in the dashboard (no more need to download!)
There's much more so log into your dashboard to see for yourself!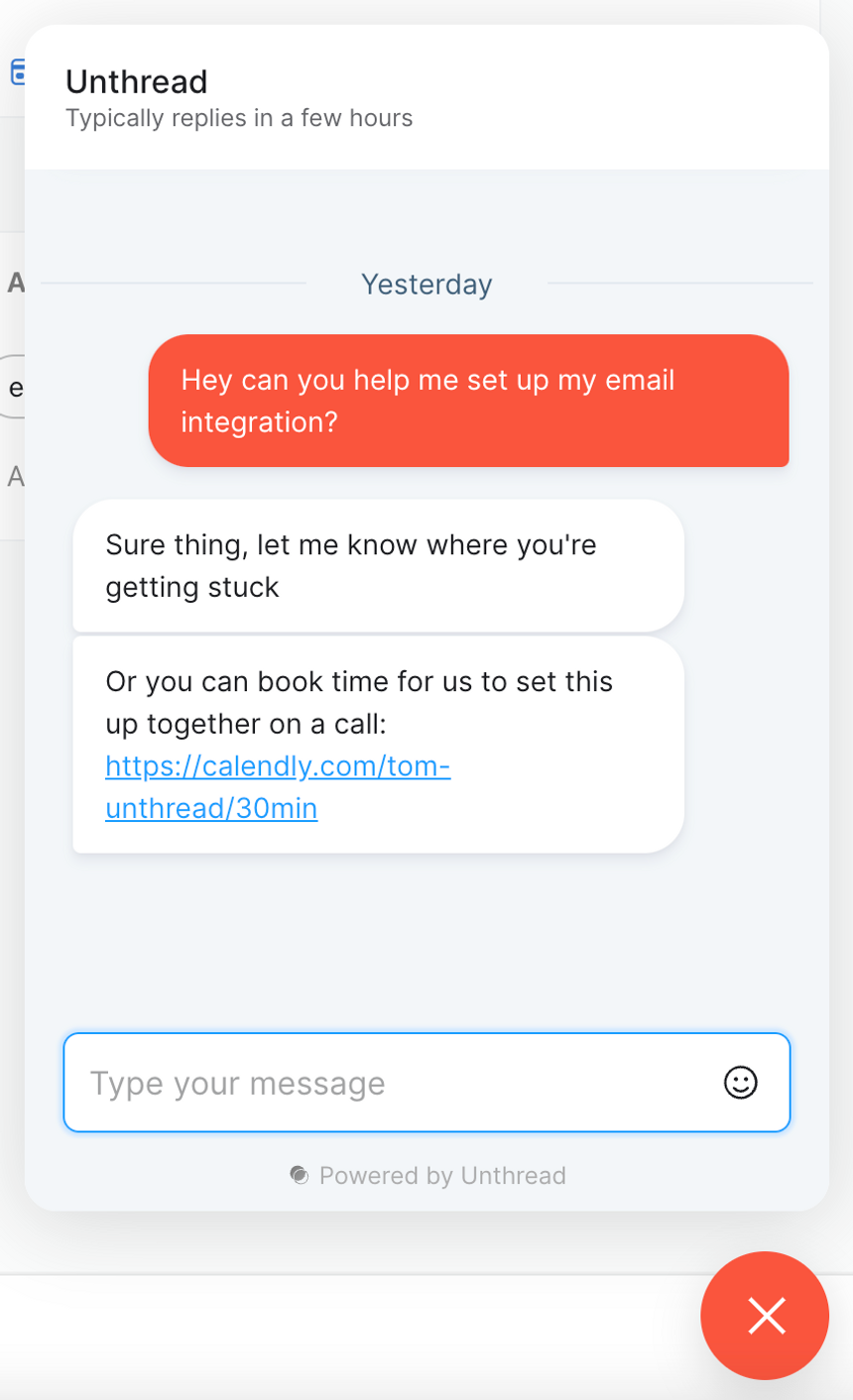 Send Replies to In-App Chat Messages via Email
Ok, this one sounds a little confusing, but bear with us:
When a customer sends you a new message on our embeddable in-app chat widget, you can reply from Slack or from your Unthread dashboard.
If the customer doesn't see the message, we'll now automatically send your response to their email on file so you can be sure that they saw it!
In addition to this change, new messages received from the in-app chat will automatically be linked to the right Customer profile in your dashboard.
This means that messages that come from Slack, email, or in-app chat are all linked together in perfect harmony 🧘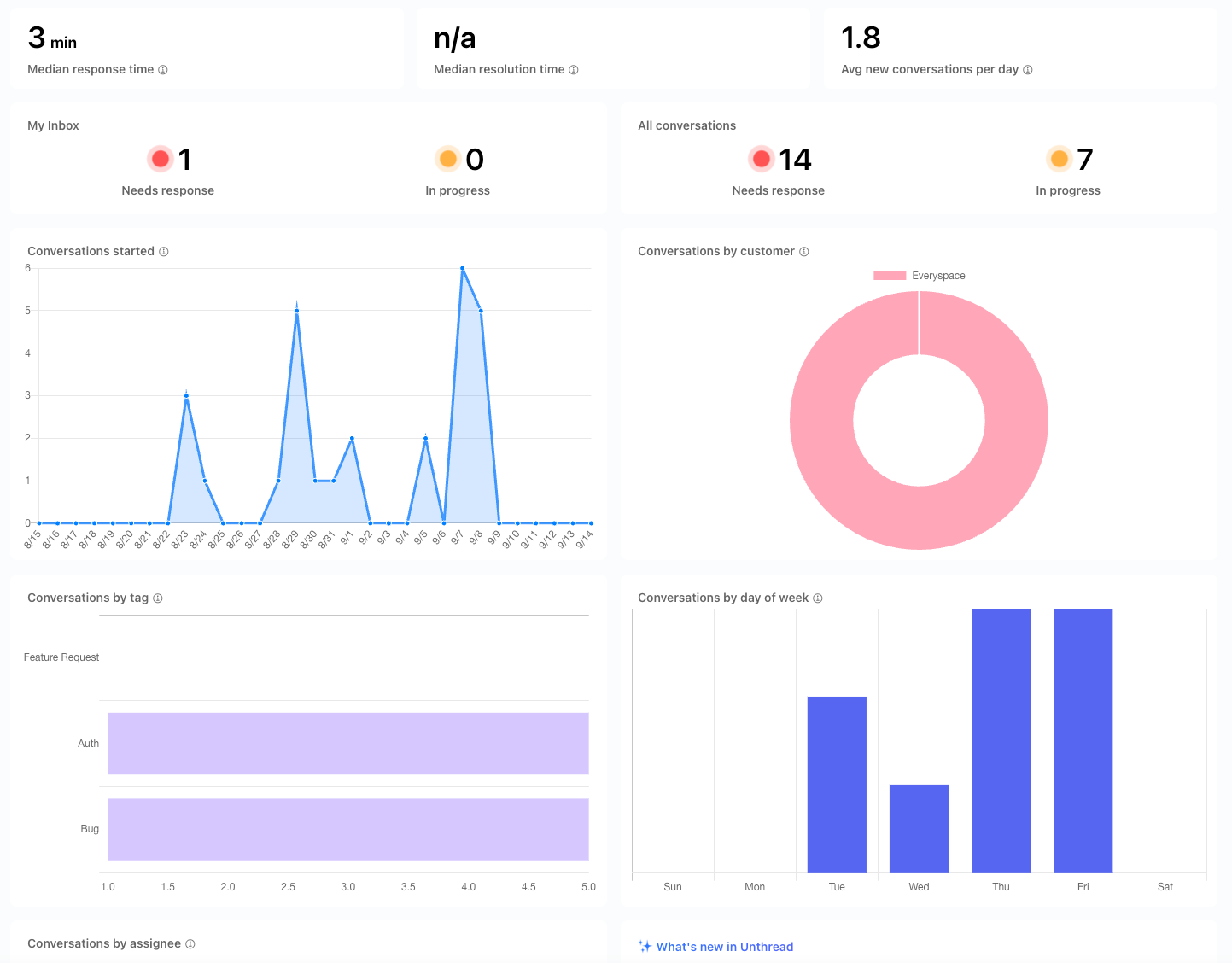 New Dashboard Homepage Design
We're excited to launch a completely revamped design of the homepage. We heard your feedback that you wanted it to be easier to get access to your key insights and a quick link to your inbox to start managing conversations. You'll now see more account recommendations, more report summaries, and a quick blurb about new features at the bottom of the page.
⏳ Coming Soon: Microsoft Teams Support
We're excited to announce that we've begun development on our Microsoft Teams integration. If you'd like to participate in the private beta of this new feature, please reply to this email or reach out on your Slack channel!
🚀 Other Fun New Stuff:
You can now save filters in the inbox view
In your SLA rules, we'll now automatically jump to the next step if no one in the current step is online
Triage messages now show the logo of the company who submitted the request
Zapier integration now has a generic step to call any endpoint of the Unthread API
Improved Salesforce and Hubspot integration allow you to link primary and secondary reps